20060717 – Holiday, WEB catchup, Packup, & Rest

This morning I was up very early at 04:30 to go with the family to an every day meeting of the Practical Ethics Association morning study group. Sachiko, Noboru's wife, goes every morning. Apparently this movement began in Japan about 1946 and is popular in many places in the World. It has a personal philosophy orientation towards "better living" which I find refreshing. The meeting has a definite format of opening – Morning Resolution:

Today throughout the day,

I will do my best in appreciation of my parents, teachers, and society.

Today throughout the day,

I will neither speak ill of others nor boast about myself.

Today throughout the day,

When I see what needs to be done, Iwill do it without delay.

Today throughout the day,

I will neither get angry nor complain.

Today throughout the day,

I will live life to the fullest,

Without wasting time, things, or thought.

Today will be a new day.

-------- with a benediction of ---------

Today throughout the day,

I will work happily and willingly with peace of mind.

In between were a number of personal testimonials and some singing by the children. The Japanese are very disciplined and the group organized themselves on the Tatami mats in a very orderly matrix of a column of two to the left of the presenters, an aisle, a column of men sitting with legs crossed then several rows of women sitting with their legs neatly tucked under themselves. When a person got up in the middle of the matrix then that column all shifted up maintaining the symmetry without missing a beat.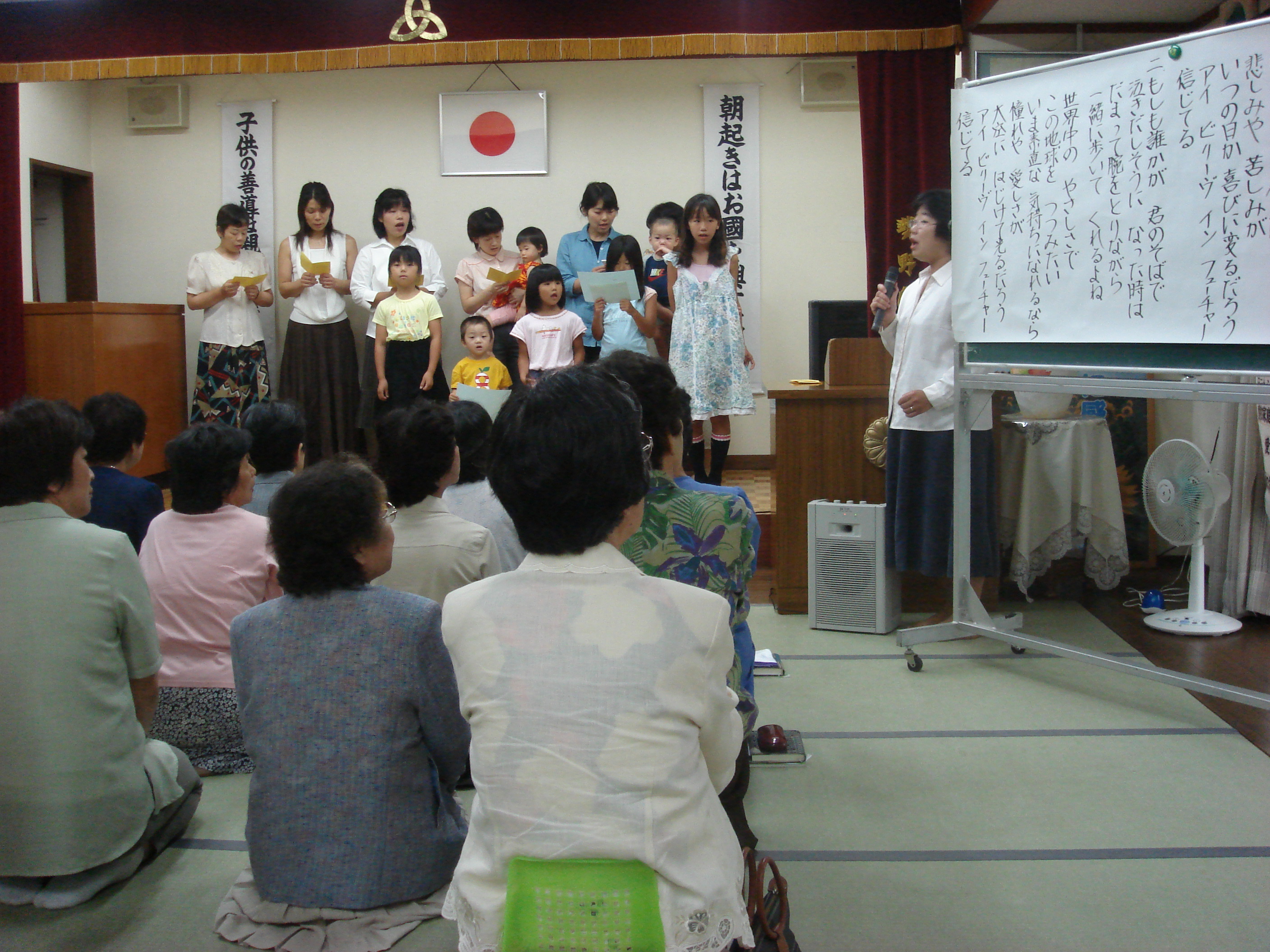 Practical Ethics Meeting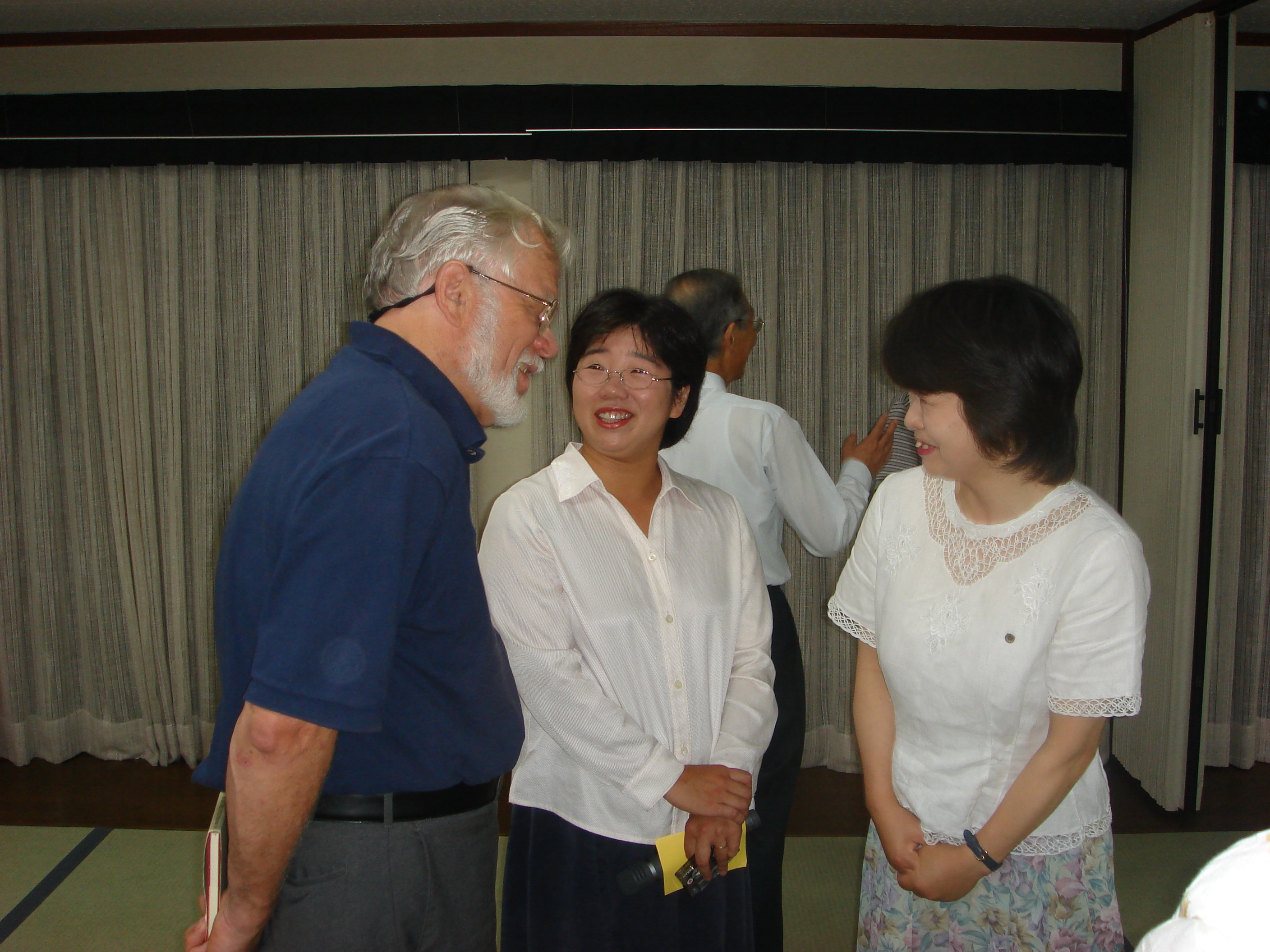 Practical Ethics Meeting leaders
20060714-16 – Local Area and Visit to Yoshi's Home

An easy day starting with a hot shower and good breakfast of egg, salad, toast, coffee, and yogurt with fruit. Following collecting my email we went to a special home of a world famous potter, Tomimoto Kenkichi, who perform his artistry in he early 20th century. Noboru's neighbor Yamamoto Shigeo is the curator of the museum. The art was most interesting with many different pieces, a special interesting find. Tomimoto initiated ceramics in Japan as a professor at the university.

In the evening we went to Yoshi's home for dinner. Needless to say there was salad and special vegetables then cooked meat – all very good. Of course, we drank beer. Then we had a wonderful melon followed by coffee and ice cream. No, I am not starving. Yoshi's home is very nice with a nice sun room. For a short while we had rain but it quickly stopped but it did cool things off for the moment. Finding Yoshi's house proved a challenge since Japanese system of addresses is based on larger to smaller areas down to the block instead of US type streets, maybe a GPS is best And locations noted by LAT LONG.

Traveling the roads of Japan is a challenge since there seem to be few expressways and the largest local streets is four lanes wide, then of course, there are the rural streets which seem to be left over from 1,000 years ago and just paved. Thus, it is a challenge to pass other cars especially when on the left, where one drives here, there is a vertical drop off into a rice paddy – but I remained calm. To date I have seen no auto accidents but I sure wonder why. Many of the rural village street turns are seemingly impossible and right or obtuse angles with little room for turning. While there are many small cars and trucks (understandably) there are also large cars which makes it more challenging. When walking to Tomimoto's house we went down a residential "street" that was so narrow I could not see how cars negotiate it, let along turn into their carport.

Noboru took me across town to the sight of an ancient Japanese city, Ishibutai Kofun Tumulus that have been excavated in recent times. The period of the archeology is prior to 500AD. There were a number of mounds in the area where tombs were and a number of excavated areas showing where buildings and pathways were. The best thing about this excursion was we rented bikes to travel about. The museum for this area was good and showed a model of the ancient city as well as a number of artifacts. The water system for this area was well developed and in fact they had created a clock to tell time using water flowing from pool to pool. The sculptures were very interesting since they had water pathways built in to make it a fountain. WE stopped at one large very modern building that housed some good dioramas plus a display of more recent art works.

This evening we went out to dinner to a local restaurant where we sat around a low table on tatami mats with legs tucked underneath – needless to say older persons do not bend as easily as we once did. We had a good dinner beginning with hores'dourves, beer, then salad and chicken. Of course, there was the usual ground up radish and other condiments with it.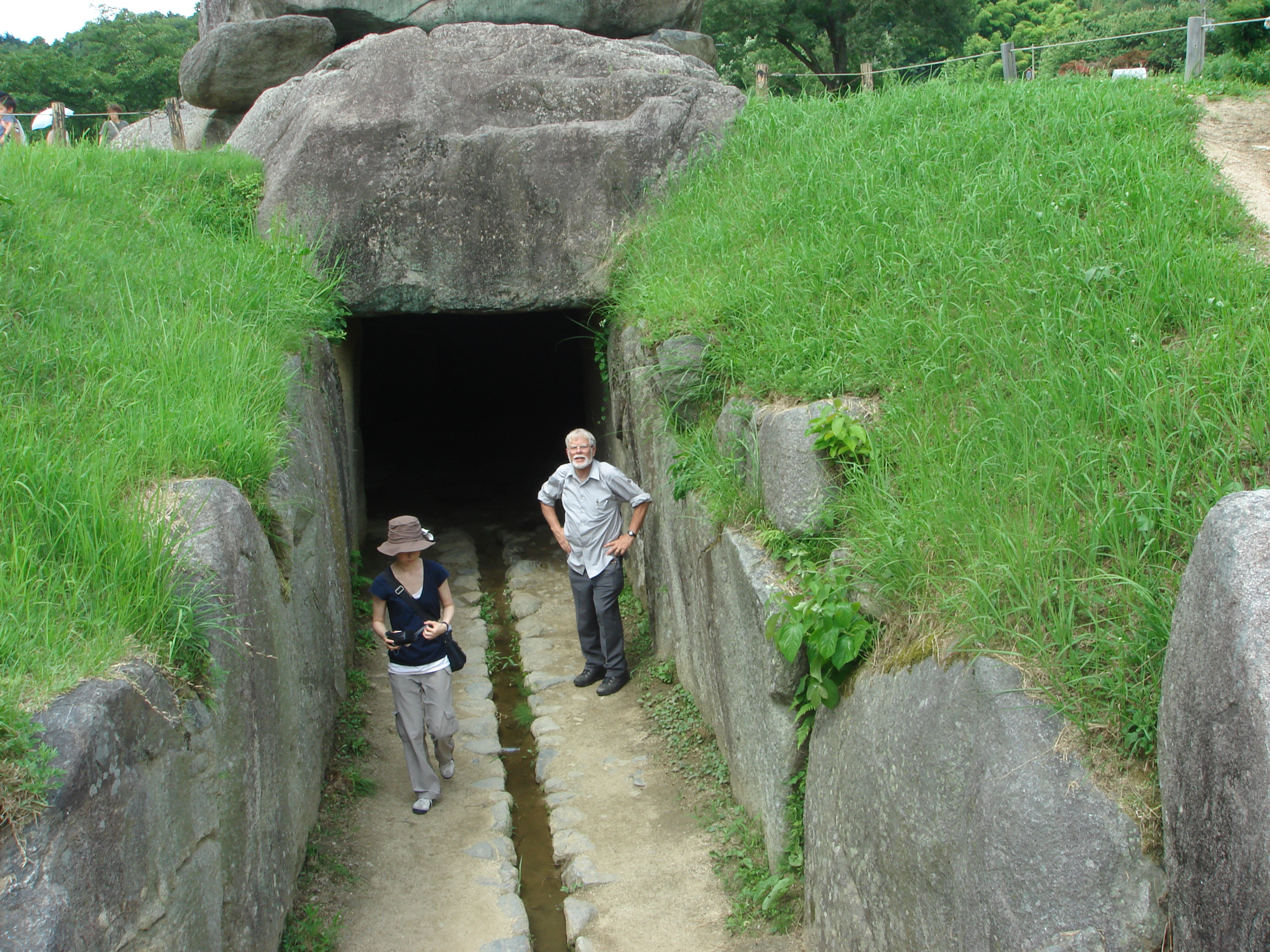 Ancient tomb
20060713 – Return from Toba

After a good breakfast (see Note) I just sat in the dining area listening to good music and working on my computer notes – this is so great and easy to do. Then I shall be off on the return train to Haguri, Noboru's home … I think I can find my way, we shall see. Note my travel saga.
Kids on the train
20060712 – Toba on the coast

Today I traveled to Toba on a nearby coast. Noboru's wife traveled with me a couple of stations to make sure I got on the right express train since travel in Japan for an American is not difficult with many signs of the stations in English but a challenge none the less with so many trains going this way and that. Inside the trains is an electronic sign telling the next stop in English – boy is this a great help. So, I was on the express to Toba whizzing through fields, villages, and small factories..

I had lunch at an Italian restaurant where the plate of "noodles with tomato sauce with bacon" was served for the prince of $8 US – yes, items here are expensive. At the end is a cute little town where man-induced pearl growth started with Mikimoto and so I had to visit the Pearl Island with demonstration of pearl divers all decked out in white garb and floating wooden buckets to put their booty into. The museum was very good displaying each stage in the pear industry process in minute detail. Of course, there were several places where one could purchase pearls – this is not a cheap item.

Now I was off to the Youth Hostel a little further south. As I rode the train there were a number of young students all dressed in their dark blue uniforms with white shirts – some chatting, others on their cell phone, and a few dozing. These folks seem to have a great capability to just relax and doze off. Well, I think they need it since their current culture encourages rapid movement everywhere.

I patiently stood by the door of the train car waiting for it to open, since I had actually heard them announce my station, Anagawa. To my surprise the door did not open as expected. As the train started up again several people called to the motorman to stop and open the door for me. Well, I guess not all doors open at all stops. I thanked the motorman and alighted from the train to a very small station. Noboru had taken a map from the Internet (what a great tool for travels) so I knew the YH was only a short walk down the road. And, truly, some 15 minutes later walking in the hot and sultry air sweating up a storm, I fond the YHA sign. Now it was just UP the road a ways. Being the middle of the week few were around. Of course, to come inside I needed to take my boots off and use the slippers provided. Naturally, the Japanese feet are several sizes smaller that those of Americans so I slipped my toes into the red plastic slippers and entered. I signed in and paid my fees for the night and two meals. Incidentally, the YH fees are about twice those of the YH in Seattle – you can now see that he Japanese economy is far above that of the US. [Where does that put Americans = behind the economic curve! Meanwhile GW spends as if the US had lot of money on a war that the US citizens did not want and help for the Iraqi people who did not want it – this, of course, makes not sense, Is the USA becoming a second rate nation? I think so. Shall we try for a third world status? Arrggg.]. Travel sure does give one perspective - too bad GW did not study abroad. Ah, well, maybe our "system" will make some adjustments soon.

This YH is a fours star hostel so I immediately too advantage of the nice shower to cool off and clean up. Dinner was a seven course meal with Salisbury Steak, salad, vegetables, tofu, rice, some chicken and cucumbers, and choice of chop stick or western cutlery. What really made my meal was, of course the air conditioning, but better yet was classical music played over the speakers.

Now it is time for bed between fresh clean sheets in a very nice dorm room.
Train station ticket taker
20060711 – Rest & Toastmasters

Some rest today. In the evening I met Noboru at a train station in Osaka - how I don' t know for all the people coming and going and nowhere to sit. Wow, so many people. We met and walked down a long hall of small restaurants stopping at one for a quick bite to eat. WE were headed to a Toastmaster's meeting in one of the large office buildings. The meeting was in English, lasted two hours since they only meet twice a month; the meeting was well organized and went well. Of course, this Club has two large challenges – the communication skills and English as a second language. The latter proved to be the larger challenge. I came away with the Table Topic award for the meeting. There is more to be reflected on.
20060710 – Kyoto

Kyoto is one of the oldest cities and was the center of Japanese control for over 1,000 years. We first went to a unique National garden and I was impressed with the "rock" garden at the Ryoanji Temple with carefully raked ground around them to allow one to meditate on what each saw in the garden. On to the Golden Temple which was the residence of a samari at one time and sits on a small private pond.

Of course, not to be missed is the National Palace and seat of government until the late 1800's., It comprises 27 acres with separate houses for the emperor to greet guests and to live in with a special house for women and children. To get into this place required me to identify myself with passport information (actually my Oregon driver's license did the tirck). This palace had quite a garden with ponds and walking bridges. Since it was wooden it had burned a few times each time being rebuilt. It was impressive.

Now we drove through the Gion area where geishas pampered their "customers" for a very large price to a special temple on the side of a mountain, the Kiyomizu-dera temple build on the side of the hill with special waters, that I took a drink of for good health. This is a very popular temple and was very crowded. We had a good lunch of "healthy" food – now I know why the Japanese are so thin and healthy – almost no fats.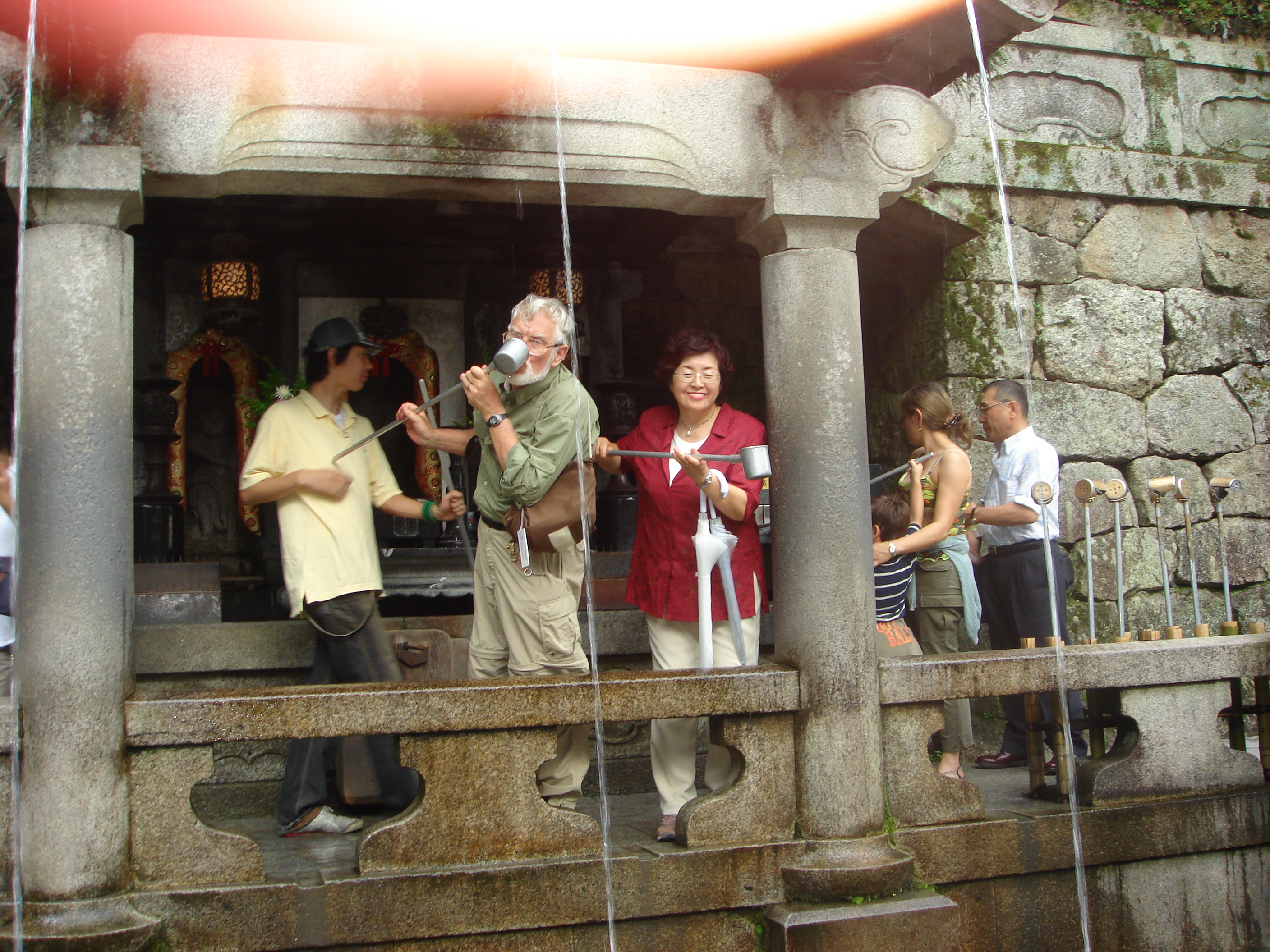 Drinking from the fountain of sacred waterd
Dinner
20060709 – Nara

Today we were off to Nara to see a number of traditional places … temples and shrines. But, of course we took the train – easy, fast , and simple. Upon arrival Noboru had made arrangements for two English speaking university student guides – good looking too. This made it more interesting knowing some of the history which dates back 1,400 years. Our tour was a walking tour for the day, good for the heart. We first walked through a deer park with deer all about amidst the city.

Our first stop was the Toshodaiji Temple founded in 759 in the Tang Dynasty. This is a very large structure and grand entrance. Onward to a shrine with many outside lanterns just everywhere among the slopes and tree lined paths. We stopped at a special hall, Hokke-do where there was a large Buddha and associated figures. The associated figures were made from cloth and formed to make the intricate statue – the curing took a great amount of time out of the sun to prevent deterioration. The Buddha wore a large crown of "spikes" representing gifts given. Almost all Buddhas have one hand to show peace and the other in gift giving gesture.

We had lunch of typical mixture of fish, vegetables, shrimps, rice, tofu, and other "things" I was not sure of but ate them anyway. I do know a few of the items were small eels. Then onward to visit some more sites of special items and stopping for a nice cool drink first before coming home.
| | |
| --- | --- |
| Large temple & guides | Guardian of temple |
| Shinto Shrine & learning center | Lunch |
| Many lanterns to light the path | The diabled can move the wheel instead of climbing the steps |
20060709 Noboru's Home in Heguri – near Osaka

The Osaka airport is a large complex where one must take the train to central immigration and customs processing. My interest was peaking wondering if Noboru and I would recognize each other, but we had exchanged photos that helped span the 37 years since we last saw each other. We had met in a Japanese Youth Hostel during my first Around the World trip in 1968. He had invited me to stay with he and his family in Osaka; he took me to some fantastic places with his friends – Takarazuka Review (better than New York Radio City Music Hall performances), boating, and allowing me to partake of the typical Japanese life that included the public baths, a real experience.

It was not 30 seconds after I appeared outside the international exit doors when Noboru came up and greeted me – what a moment. Off we went to his car parked in the modern parking lot with all the automation of the one in Portland. The weather was balmy with some sprinkles due to the tropical storm coming up from the south. We sped along the very modern highway with Noboru now tuned into his GPS large screen display map, and later I was to find out that it also picked up TV stations. Down the toll road we went at 120 … km/h. As we approached a toll booth we took the pass through lane at about 60 km/h and I could see the stripped gate was down, but not to fear they instantaneously jumped up as we went by – more that once I had some concern that we were going to take the gate out.

Now pass the Nara and Kyoto turnoffs we pulled off the toll road onto the typical narrow streets of suburbia. One very noticeable thing was the neatness and cleanliness of the streets and shops, very tidy. As we approached his home the roads became narrower to the point where this two way road would hardly handle one car let alone two. Fortunately, we did not have to pass anyone else. Then up a hill on now very narrow streets with sharp turns in them. Never fear, at each corner was a large mirror to see up the road. We pulled up in front of his very nice home and were greeted by his wife.

His home, like many Japanese homes I remembered has a "woody" smell to it from all the nice wood flooring. But, of course, we took off our shoes at the door. Next was a little wonderment as I used the toilet. This is really an engineering marvel and electronic too. Yes, it did have a handle on the side to flush it but at the side was a few lights and three buttons. Noboru explained to me, and I should have guessed from the images on the buttons, that one was to initiate the "feminine mode" and the other was to initiate the upwards bidet wash for women.

Needless to asy, by 21:00 I was quite tired since I had not slept for over 24 hours – the tsunami mat was quite comfortable. However, I did wake up early since my internal clock is not yet quite in sync with the local time. We had a great breakfast of eggs and bacon and toast and jam and coffee. But, trying to eat fried egg with chopsticks is a challenge.

This morning we were off for a local tour up the nearby hill to the cemetery where Noboru' parents are buried. The grave sites are really small family plots done very nicely in marble with the shrine motif. On we went to an overlook of Osaka – wow, do they have smog, not nice. Our next stop was a temple complete with hotel for those staying to give prayers; We could hear chants going on here and there and people wandering from shrine to shrine giving prayers payng tribute to parts of their lives. The location was on the edge of the mountain with building everywhere – I did ring the gong for, just because it was there and I am sure Buddha was happy.

We then went down the mountain from the Temple on a very narrow road that was two ways, yes, this time we met a car and somehow we both just slipped by. When driving down the streets in town passing another car coming towards you can be iffy since there is usually a drop off of about 3 feet into a rice paddy – alas, I just stayed calm even though from my side of the car it appeared we were going very close to the edge. One must drive aggressively in Japan.

After lunch and a little rest, since it has been nice but warm and with high humidity, we went to the Horyu Temple where the town of Horyji started about the year 607 AD, yes, 1,300 years – the USA can be looked at in these terms as a mere baby. It is a very large temple built by a prince in memory of his father, the emperor. The center attraction is the pagoda (large stupa) that is used to contain the remains of Buddha; there are always an odd number of stories – 9 being the best. A large Buddha holds his right hand up to signify not to be afraid and the left holds a medicine jar since the emperor was sick. One sees many Buddha each with different meanings and poised differently. There was a good showing of artifacts too that includes all the buildings. At one time there were over 500 monks here and now there are only a few. In the great hall there where the teachings of Buddha take place two priests sit facing each other and "discuss" the meanings of life around the Buddha teachings in a Socratic manner. There is also a copy of the first Japanese constitution that consisted of 17 simple articles that really made sense and could be used today. Why can't we, in our modern world, keep things so simple and discuss issues in a Socratic manner without war?

Noboru Fujitani's wife is Sachiko and daughter Uhoko, he also has another daughter and two sons, one grandchild.

This evening was a treat since se went to dinner with Yoshi, the other young person I met 37 years ago in the youth hostel, and his wife, Uhoko. We had a wonderful time despite a fluent English conversation; I guess I should learn Japanese – we talked, laughed, and discussed travel. As it turns out both Noboru and Noboru work in the world of computer systems, although Noboru previously worked for a steel company. What an experience to once again meet such people after so long. Of course, I will expect them to visit me in Oregon and Yoshi invited me to stay with him next time. How much better can friendships be? Why is the rest of the world fighting each other – it makes no sense.


At dinner with Friends Noboru & Yoshi with wives



Local cemetery



Looking over Heuguri from house



Local Heguri residential street